Sadly, today is my last piCture pOlish #ManiMonday! AND because it's the second week of December it's also The Digit-al Dozen time again so today features a mash-up of red, gold green nail art for DD + piCture pOlish #maniMonday. I saved a really beautiful 'classic' color for last - the majestic O'Hara. O'Hara is a red jelly base with holographic and pink shard pieces in the mix. I only needed two coats for it to be opaque, which I think it pretty freaking awesome. Then I did some punky holiday nail art. Check 'em out!
Seriously. Two coats. So pretty. So amazing. On my nails O'Hara is a little more pink-red than in the bottle (almost seems a wee bit coral?). I really like the flat piCture pOlish brush - makes it very easy to paint, and it's not too terribly wide so I don't paint all over my hands. And of course I really love the flakie bits - it's my favorite PP finish! I love the way they catch the light.
(with camera flash)
Then I did some sort of punky-edgy holiday nails! I'm not feeling super in the holiday spirit because, well, I live in Miami now and I'm still wearing tank tops and shorts and sunblock every day. BUT in the end I am really happy with these nails because I love the mix of festiveness and larger scale studs. Unfortunately I sort of struggled with getting the art to look great on camera, but I LOVE THESE in person :)
Using the
Chalkboard Nails 'distressed' nail art tutorial
I did a grungy texture on my ring finger. Green and red are complimentary colors, and especially with polishes they mix to mostly make 'dark blah' - only adding to the grunge. I used piCture pOlish Mallard (press sample) (
see the full post about this polish here
) and two different gold polishes (one smooth and one particle-y foil). Then I did a quick plaid freehand on my middle nail, also using Mallard and a gold foil.
Pricing & Availability
Finally, don't forget to check out the other Digit-al Dozen nail arts for today! I'm sure it'll be a super fun, festive week. I'm looking forward to how creative we can all get with only 3 colors as our inspiration!!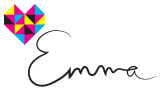 *I received a press sample for my consideration; this review is my honest opinion about the product. If you'd like to know more about my policies, please read my disclosure page