This week's piCture pOlish #ManiMonday features another blogger collaboration shade, Mallard created by Jen of The PolishAholic (
read her blog post reveal about this shade here!
). Mallard is a deep teal with golden shimmer and some orange-yellow flakies in the mix, too. Check out my swatches and the fancy tape nail art I did inspired by this polish!
Mallard is a really fun polish because it's darker, but looks really great in low lighting as well as bright, direct light too. I love how the flakies look in low indoor, artificial lighting!! Usually you have to layer flakies over a darker color to show them off, but this polish works so brilliantly because it's dark and flakie-filled at the same time (also how many times can I say "dark" and "flakie", eh?!). I used 2 coats for these photos; formula was great to work with and very opaque.
For the art portion of today's #maniMonday, I used two other piCture pOlish green-ish polishes (not sure if Honey Dew is 'green', it's more turquoise) to do some triangle tape accents. On my ring finger I did an accent of gold stars from my DRK-A stamping plate because I feel like gold chrome goes so well with this emerald green polish (also great for the holidays, right?!). Love the mix of textures with the 3 different polishes - the flakie/shimmer combo of Mallard, the smooth creme of Honey Dew, and the glittery texture of the mesh shade Jealousy.
Pricing & Availability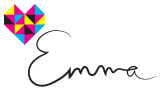 *I received a press sample for my consideration; this review is my honest opinion about the product. If you'd like to know more about my policies, please read my disclosure page