Polish Alcoholic is an indie brand from the Netherlands created by fellow nail blogger Sabrina. Today I've got one stunning linear holographic polish to share with you named Cheer Bear from her upcoming Care Bears Collection! This post is a wee bit pic heavy because I really wanted to show you this polish in different lighting.
flash
indirect OTT 'natural' sunlight, slight holo bends
real full-on sunlight
indirect natural sunlight, outdoors
Cheer Bear
is a baby pink linear holographic polish, which also looked a wee bit coral indoors under different lighting. I used 3 coats for photos but I found 2 to be enough in person because the holographic-ness sort of masks VNL. Most photos are taken without top coat, and then at the end of my photo session I added top coat to two of my nails to see if it would change the linear qualities. I feel like top coat does change the 'flame' shape of the linear rainbow stuff a little, but not drastically - you'd really have to stare at two nails with and without topcoat to be like "I guess this one is different?" ((see the comparison of with and without tc later in the post)). It dries quickly without topcoat and has a nice finish with or without it :)
indirect natural sunlight, outdoors
real full-on sunlight
indirect sunlight, indoors
Indoors I feel like Cheer Bear is sort of between a scattered and linear holo - I can spot some bands of full-on rainbows, but not nearly as linear as it is in direct sunlight. The formula was easy to use, and dried quickly. I did use 3 coats for these swatches and I see some slight VNL peeking out in brighter light situations (as evidenced in some of my flash and sunlight photos). This is the sort of 'visible nail line' I don't mind because the rainbowy particles sort of reflect and distract from the usual "Oh bah, I can see the VNL!" feeling I get. Hopefully this post gives you a good understanding of what Cheer Bear looks like in person :)
Topcoat vs. No Topcoat Comparison
Can you tell which nails in the following photos have top coat and which don't?
The pointer and ring have top coat; the middle finger does not. I think it makes the 'flame' shape of the linear holo part a weee bit shorter, as in the photo above, but not so much so that I feel like you have to avoid top coat when using the polish (in person this difference in distance is
incredibly
minimal, this photo is showing my nails at at least 5x larger than they are in real life).
Pricing & Availability
Cheer Bear and the rest of the Care Bears collection will be available starting November 25th!
- - - * - - -
Are you a fan of linear holographic polishes? Have you tried any polishes from Polish Alcoholic? I think the little bottles are so cute!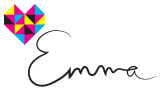 *I received a press sample for my honest review and swatching purposes. If you'd like to know more about my disclosure policies, please check out my disclosure page.