Today I have a blogger collaboration piCture pOlish color to share with you - Shocked, created with Claire of Shatter Me Claire (
read her blog post reveal about this shade here
). Shocked is a gorgeous pink jelly polish with holographic shards in it. I have to confess, the little irregularly shaped holo shards is my very favorite PP finish - I am obsessed with it!! I want ALL of them! Take a peek at how beautiful this polish is and the nail art I did inspired by Claire's blog name below.
I'm not really a 'pink person', I have always been a 'blue girl' BUT I am totally enamored with Shocked! I feel like it reads more as raspberry on the nail and I love the smooshy, squishy depth you get with the jelly base. I paint slightly thicker coats so I actually found this to be a wearable opacity at two coats, but did three coats just for more punch. The piCture pOlish brush is great and really nice to work with - short, but flat like Zoya and OPI had a brush baby. Formula was perfect and easy to work with as expected!
I was a little stumped on what to do for art for this polish, but then I finally decided to give it a little edge and do some 'shatter' inspired nail art - both for Claire's blog name of 'Shatter Me Claire' and also because of the delicious holo bits in the polish itself. I used Bundle Monster images on my middle and ring nail, and added some freehand details with a small liner brush. Finally to tie it alllll together, some simple black rhinestones. Pink and black (and holo) just look so nice together!
Pricing & Availability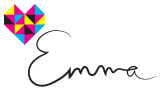 *I received a press sample for my consideration; this review is my honest opinion about the product. If you'd like to know more about my disclosure policies, please check out my disclosure page.