I am SO thrilled to be starting this piCture pOlish #ManiMonday mini-series! Starting today I will have one beautiful piCture pOlish shade to share with you every Monday for four weeks. The first shade I'm sharing with you is a newer color from the Inspire Collection called 'Believe'. The Inspire Collection is a trio of polishes that are dedicated from one of the PP girls, Jules, to all of the friends, family, and piCture pOlish fans that have helped her on her nail growing journey (and stop biting her nails! yay!). I used to be a nail biter and hangnail picker before getting into polish (like many nail fanatics, actually) and I very much echo the sentiment of HOORAY! It's so nice to finally break the habit :)
There's no 'official' description of the color, so you'll just get my take on it. Believe is a 'blackened violet' type color - rich, eggplant purple base with green-blue shimmer laced through it. The shimmer gives it a lot of dimension indoors; it's like an inky and mysterious chameleon. I used 3 thin coats of Believe for these swatches, it dried quickly and didn't drag between coats and was very shiny sans top coat.
Personally, I am a HUGE fan of colors like this and I am always drawn to them! Plus I
love
that the tone of this polish is fairly dark indoors, but it never reads as black (because let's be honest, how often do we get to sit outside in full sunshine all day to be like "no no, this isn't black it's just really really dark whatever?!"). The flat piCture pOlish brush makes it easy to paint with and I had no problems with the formula (not too thin, not too thick). I also love square bottles because I am obsessed with my Helmers :p
Because I rarely wear a polish by itself, I did some quick and easy galaxy nail accents using some of the other piCture pOlishes from my collection. I thought that galaxy nails would go well with the sentiment behind 'Believe' because it reminds me of "Shoot for the moon. Even if you miss it you will land among the stars." [I can't be the only one that had that as a motivational poster up on the gym walls in junior high, right?!] I sponged on a little of Attitude, Honey Dew, and Jealousy then topped it with a single coat of Mask-a-Rade before adding some star details in white.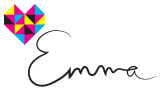 *I received a press sample for my consideration; this review is my honest opinion about the product. If you'd like to know more about my disclosure policies, please check out my disclosure page.