Oh my gosh, what a month! The beginning of September saw SO many different nail art posts in celebration of the Digit-al Dozen's one year anniversary (are you sick of me talking about it yet?!). I had lots of fun really pushing myself to do new nail ideas! I also got to play with a bunch of fun beauty products, too :D
1.] Favorite new (tried) polish: Didn't try any new polishes that weren't indies this month! *shrug* Good thing? I can purge a bunch of my less-used polishes because I stick to my favorites. Bad thing? You guys might get bored if I show you the same blue Pure Ice polish?!??!!!
2.] Favorite new (tried) indie:
Probably
Anne Kathleen's Poppy
- definitely like a bright ray of sunshine looking back at me from my nails!
3.] Favorite new (UNtried) polishes:
OMG you guys, more KBShimmer, hahaha! Do you hate me yet?! Sorry! This is Vicious Circles (left) and Teal Another Tail. I snagged this off of my own Instagram account (
do you follow me yet?
I'm like super fun on there and stuff!) so of course there's a filter on it - Vicious Circles is a bit more normal red IRL as compared to how it looks a little more pink-ish here.
4.] Favorite new polish collection: Oh my good lord, have you seen the China Glaze Halloween collection? I WILL BUY EACH ONE OF THEM. They're majorly awesome and I am SO happy - I didn't purchase a single one last year and while I liked the year before that, I ended up purging a lot of them because I'm not a fan of this-basically-looks-black-in-low-light polishes.
YOUR favey September post
('fave' as determined by page views) is my gradient stripe nail art inspired by candy corn!!
Check out the full post here
. I mean technically it's the giveaway posts, but I went with my most popular original content from this month instead ;)
September
Beauty:
As we move into fall I am obsessed with two recent HauteLook purchases that work so well together - Deborah Lippmann's True Blood inspired lipstick, Bite Me, which is a great sheer brown-red that plays with being dramatic but isn't too vampy or drastic for normal wear. I've been pairing it with simple neutral looks from the two different UD Naked palettes and then using Stila's Angelfish on my waterline. I adore the way it makes me look refreshed and put together!
For my
September Entertainment
I've been reading the Mortal Instruments series quite a bit as well as the usual TV - ANTM, Project Runway, Face Off, and Dexter!! I'm also really happy normal fall TV is back :) I like too much tv...
Favorite blogging moment/milestone:
With the super popularity of the September Spectacular, I managed to pass one THOUSAND GFC followers here on the blog on September 2nd!
THANK YOU THANK YOU THANK YOU. I can't even say thank you enough times, you crazy-cool people, you! Hopefully this gif
My September goals were to post 3 consecutive days each week by a certain time each day AND to focus on Twitter. How did I do? Ehhhh. I could have been a lot better at being consistent timing wise with blog posts, but I began the blogging month behind with the DD nail art posts and struggled to keep up. I'm keeping my same goals for October because I think they're both important habits to learn.
October Goals
Post (at least) 3 days per week, at the same time

Tweet tweet it up! Do you follow me on Twitter?! I'm @manicurity and I would love to chat with readers/fellow polishaholics on a more personal level using the twitters
Now I'm curious, what were your favorite things about this month?!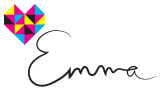 I always enjoy reading 'favorite things' or 'wrap up' posts because it's so fun to see what other people like & get to know them a little bit better. If you'd like to see all of the 'My Favorite Things' posts, click
here
!