Today I've got some very cute/messy nails inspired by caramel apples - complete with 3D 'nuts' made of caviar beads! - to share with you! This week posts are inspired by the theme of 'autumn', which only seems appropriate since autumn extends from September through November and lets us start eating treats and wearing sweaters, understandably my favorite part of the year [I love eating treats and wearing sweaters]. I keep seeing this nom-tastic caramel-dipped apples at the grocery store and thus needed to put my food craving on my nails (totally normal, yes/yes?). Check 'em out!
I chose Orly Fresh, a bright green obvs, for my base color because I like green apples AND because the best Halloween candy EVER is those sour green apple suckers with a layer of caramel on them. You can pull a bracket off with those things (not that I have braces anymore, but I do have tortured memories of missing out on those sweet, sweet lollipops back in the day)!!
Next I slopped some delish caramel on my nails in the form of Elevation Polish's Temperance, which is a mouth-watering caramel-colored jelly polish (like it was made for this nail idea!). I slopped twice because it was sheer on the first slop ;)
Finally I topped the whole thing off with some 'nuts' by throwing some gold caviar beads on randomly; I thought about doing rhinestones but the scale would have been weird on my currently short nails.
Ta-dah! I can't imagine I'm the first or only person to do this nail art idea, but I was proud that I just went with it instead of doing the usual Google sleuthing* for inspiration beforehand. The drips/slops/layer of caramel is sort of messier than I think I wanted, but it helps it walk that fine line of autumn and Halloween that the sour apple + caramel candy evokes for me.

Now I am totally justified in needing to buy some candy and/or apples as "props" for the rest of the day!
Don't forget to check out the other fall-fabulous nails for today!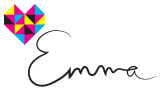 *I usually check to make sure that I'm not doing the exact same thing as someone else because I'm very weird, nice, and sensitive to the concept of 'ideas vs. execution' ish