Press Sample
Hello hello, happy Tuesday my beauties! Today I have an entirely new indie brand to share with you - Anne Kathleen! How new? So new that the polishes I'm showing you aren't even available until this Saturday, September 15th!! I have two of the polishes from the Blossoms collection swatched for you - Iris and Poppy. I used butterLondon Nail Foundation base coat and Zoya Armor to top these swatches off. The swatches are arranged in alphabetical order, as usual, which isn't too tricky because there are only two polishes :p I did, however, include a TON of photos to try and show these off in all their shimmery glory!
Iris
according to the AK official description is "a dark turquoise-blue shimmer polish with small dark pink, fine light purple, fine brown and fine holographic gold glitter." I find it to be more of a silvery, sage green in strong light with almost duochrome shimmer; it can look much darker green or blue depending on the light! The shimmery base mixed with glitter gives this a slightly textured look, even with a glossy layer of top coat, and it reminds me a bit of the Deborah Lippmann Mermaid polishes. My bottle was a little thick; I ended up adding some thinner between the 3rd and 4th time I swatched it [not that it's hard to paint with, more just crazy challenging to photograph so I had to swatch multiple times]. I did not find this easy to layer over other base colors, so if that's something you like to do this might not work as well for you. The great thing is that it doesn't need to be layered; this is a nice, thick, pigmented formula that builds up in a mere 2 coats!
3 coats of Iris
3 coats of Iris
2 coats of Iris
1 coat of Iris over Misa Dirty Sexy Money
Poppy
is a "yellow-orange shimmer polish with fine orange glitter" - and I would agree that that official description is totally accurate :) I'm not usually one for polishes with just one size of glitter, but this sunny polish definitely grew on me (har har, because it's named after a plant, get it?!). This polish built to opacity in 3 easy coats and this formula wasn't as thick as my bottle of Iris. I thought that this would be a really fun layering polish, but the base color is so nicely pigmented that I found it obscures whatever color your put Poppy over.
3 coats of Poppy
3 coats of Poppy
3 coats of Poppy
1 coat of Poppy over China Glaze Peachy Keen
Pricing & Availability
Anne Kathleen polishes will be available September 15th at
A

nneKathleen.com
($10)
- - - * - - -
As a new indie brand, I'm really happily impressed with how professional and nice the bottles are because I am a huge fan of square bottles (soooo much easier to cram into Helmer drawers) and the matte, round bottle handles are comfortable to paint with (plus the labels look super profesh and I like the name label on the bottom of the bottle). It is also nice to note that this brand is cruelty-free AND 5-free (does not contain Dibutyl Phthalate, Toluene, Formaldehyde, Formaldehyde Resin, and Camphor)! Some of their polishes are vegan, too (all of them are labeled on the site). Impressive! For those of you sensitive to fumes/scents, I did find these polishes to smell, well, more polish-y than usual 3 and 4-free polishes. And as a pro for those of you that don't use fast dry top coat (...are there any of you...?) I found these both to dry very quickly on their own! Yay!


These are just 2 of an 8 piece collection! I've been eyeing the webstore and Primrose looks like a polish that would feel right at home in my Helmers...
Now I want to know, which of these are your favorite? Will you be picking any up when the shop opens?!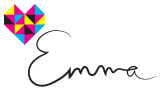 *I received a press sample for my honest review and swatching purposes. If you'd like to know more about my disclosure policies, please check out my disclosure page.