Wow, I cannot believe we're moving into autumn already! I feel like I say that in the intro to every.single.one. of these posts, but this year really is just flying by. Unfortunately I didn't blog very much in August, but I'm really excited about the plans in place for September!
sniffing out the favorites ;)
1.] Favorite new (tried) polish: Didn't try any new polishes that weren't indies this month! *shrug*
3.] Favorite new (UNtried) polishes: Ermmm more KBShimmer, hahaha!
4.] Favorite new polish collection: I am really excited about almost ALL of the new Zoya fall polishes!!
YOUR favey August post ('fave' as determined by page views) is my review of four of the KBShimmer core shades! Check out the post here.
August Beauty:
If you're interested in some of the items I've been using and testing recently, hop on over to
my 'Product Preview' post!
For my
August Entertainment
I've been hitting Netflix pretty hard (Orange is the New Black, Supernatural, and Damages) + enjoying some good ol' fashioned reality tv competition type shows (America's Next Top Model, Project Runway, Face Off).
Favorite blogging moment/milestone:
Somehow I have managed to make some incredible milestones this summer with followers!! I have MORE than a thousand 'likes' on
Facebook
, which is astounding, but even more exciting for me is that I have recently reached a crazy 2k on
tumblr
! THANK YOU THANK YOU THANK YOU. I can't even say thank you enough times, you crazy-cool people, you!
Now here's a new thing I'd like to add to these monthly favorite posts: goals for the next month! I think sometimes I get too stuck in the cog wheels of the blog machine; sort of like blog blog blog forever with no end in sight. Because my real goal is
worldwide internet domination
to keep blogging and hopefully, eventually, get to work directly with brands I love (I mean, I've been super happy and lucky to work with many many indies, but I would also love to work along with brands like Zoya, etc.), but that doesn't always give me enough tiny goals to feel satisfied about in the short term.
For September I would like to work on getting back into the habit of being more consistent, so that readers know when to expect fresh new content. That means I would like to get posts up by a certain time each day and post at least three consecutive days each week of the month of September. I also have been a little lacking with Twitter (and Googe+), but Twitter is my main focus for September!
ALSO,
I love love love this post from Getting Cheeky about commenting
and I think I will follow her plan: take the time to comment more frequently! I read SO many posts but I don't comment on all of them. But why? And wouldn't I want other people to comment on my posts?! [the answer is YES] So I'm going to try commenting on at least 3 posts per day (I'd like to do 5, but baby steps here people).
There's also the often dreamed about 1k followers on here that I am slowly inching towards; that's been a dream-goal of mine basically since I started because it just seems like a certain level of awesomeness that I would love to be at as an ~established blogger~, you know what I mean?! Maybe I'll get closer with some of the super awesome stuff the Digit-al Dozen has planned for the month! *rubs pretend evil beard chin*
And there you go! I'm taking an early weekend break from blogging because I will be back bloggin' away on Sunday. Now I'm curious, what were your favorite things about this month?!
PS. I can't really remember exactly which month it was anymore (I'm like 52% sure it was this month, bad odds) BUT I did spend some time streamlining ze blog layout. So while I wasn't doing a lot of blog content, I did a lot of tiny updates to hopefully make the blog a little more polished and attractive to your eyeballs. I try not to make a huge deal about it when I update my layout because I would make changes probably every day if I had more time, but I think it looks nice!!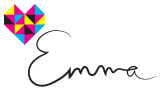 I always enjoy reading 'favorite things' or 'wrap up' posts because it's so fun to see what other people like & get to know them a little bit better. If you'd like to see all of the 'My Favorite Things' posts, click
here
!