Sorry, wee bit late with this one since this week was busy with NEONS and national holidays and all that. June was the month that brought out my favorite week ever from myself to date - DEXTER Week. Here's some of my favorite stuff from June! To be honest, in May I had reached a plateau of spending. In June I went down the dark, deep rabbit hole that is my new obsession with lipstick - I love the stuff! So not so many 'new' polishes, but definitely some new lippies 'round here :p
1.] Favorite new (tried) polish: I have been surprisingly well behaved lately, so I don't have any 'newly' tried non-indie polishes. I was still enjoying pastels in June, but now that July is here I've moved into neons (loving the older Orly and China Glaze neon collections, not so much this year's offering).
3.] Favorite new (UNtried) polishes: No UNtried indies from June, but I did grab two 'speckled'y polishes from the Icing that haven't been used yet.
4.] Favorite new polish collection: I MUST HAVE all of the new Maybelline Color Show Polka Dots, and many many back ups of the black and white glitter topper. I love love love my black and white hexes only Dollish Polish, but it's discontinued and I only have like 5 mini bottles (which are SUCH a stinkin' pain to use).
new technique/tip
: Cutting brushes is a MUST DO.
Check out this Robin Moses video about it
if you haven't seen it yet. Also, acrylic paint is my best friend. I asked
on my FB page
to see if people thought it was sort of "cheating" to use acrylic paints and I was surprised that it seems a majority of people
DO
sort of look down on acrylic paints being used in nail 'art'. But my question to y'all is - if you know it is a.) faster b.) easier c.) looks better d.) makes you NOT want to pull your hair out - why aren't you doing it, too?! Nothing is stoping you from using paint! Using black acrylic paint would have made
this god-awful cheetah print
have a little more of a fighting chance.
My faveorite June posts
1. Favorite new makeup item: ALL OF THE LIPSTICKS. Photo is of a small portion of my Revlon Lip Butters, the gateway lip drug to lipstick obsession. Currently I'm really enjoying the Wet n Wild MegaLast matte lip color line - $2 for a new lippie?! Yes, thank you! Plus they wear incredibly well, don't dry out my lips too much like standard matte lipsticks, and have awesome opaque color and coverage. Two thumbs up, do recommend.
2. Face o' the Month:
I was doing minimal makeup, and I still am - but now I'm finally playing with brighter cheek colors pared with colorful but somewhat translucent lip color. In this photo I'm rocking orange-ish cheeks and red-orange lips + minimal bronze liquid eyeliner and as much mascara as possible.
3. Hair
: Rocking the top-knot pretty much every 2nd-day hair day; perfect way to keep cool and I like the texture my naturally curly hair gives it.
4. Hand care:
Along with regularly taking Biotin, the hand care items from Dragon Lacquer [
review here
] are
really
helping my nails grow more quickly and strongly! Love the cuticle oil so much!!
June Entertainment: I read Ender's Game in like a day in June, but am still working my way through Half Made World by Felix Gilman and Red Dragon. I watched a lot of 'entertaining' but not 'good' TV this past month - all 2 season of Scandal in like 3 days, all of Chicago Fire, all available episodes of Raising Hope and started Big Love (like 6 years late, but whatevs.
Favorite June blogging moment
was definitely getting some internet IG love from someone I admire, bold beauty blogger
Phyrra
! It was really awesome!
***swoooons***
And there you go! What were your favorites this month?!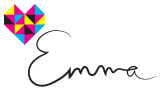 I always enjoy reading 'favorite things' or 'wrap up' posts because it's so fun to see what other people like & get to know them a little bit better. If you'd like to see all of the 'My Favorite Things' posts, click
here
!