Oooh, I was a busy little bee in May AND I am so busy this far into June, too! I cannot believe how quickly May went by, especially after my slight drop off at the end of April (womp womp). BUT I definitely feel like I've got my ~blogging mojo~ back and I've been delighted by the lovely comments from y'all this month!!
ANYHOO, let's get into some favey stuff from the month of May. Are you ready?!
Favorite new (tried) polish: So I think I only bought 3 bottles of nail polish this whole month (and they were a gift, so technically they were free mwhaha) and all of my newly 'tried' things are all indie brands... I don't have anything that is new-to-me this month that isn't an indie, BUT I have re-discovered my love of Sally Hansen Mint Sorbet! Yum!
Favorite new (UNtried) indie polish: I'm late to the game, but I finally snagged a bottle of Revlon Girly and I'm excited to see if I like it on or not! It's such a complex indie-ish pink glittery concoction.
Favorite new polish collection
: I'm sort of out of the loop of new 'normal' collections; I've been doing a great job of not buying things. Now that I have soo many polishes, I just don't find similar things as exciting anymore, you know? Like, yes, I love neons and I
want
to buy 12 new China Glaze neons each summer. But I have things
similar
enough that will never get used. *sigh* It's hard being a polishaholic! But anyway, my favorite overall collection lately would
have
to be
the ENTIRE Trelly's M.I.S.C. Polish Summer Collection
. It was so perfectly crafted for summer! And I loved the crelly polishes in it. Seriously, the whole collex is easy to work with and beautiful :D
new technique/tip: I've really liked my photos lately, and it's all because I'm using my polish table as a tripod (ack, I told you my secret)! I would definitely recommend experimenting with your photography and maybe even trying a tripod [haha, this is totally something everyone else has said before and I was all, "Nope, too lazy. No tripods here!" but it does help to keep my hand and the camera steady to get better macros, etc.]
My favey April mani
- I really liked
the 'Abstract Floral Tapestry' nails for the Tri-Polish Challenge
, but it didn't garner a lot of comments. Ah well, just goes to show you can't always pick a winner!
YOUR favey May mani (i.e. most viewed) My stats say it was my massive swatch post of Trelly Polishes, which is sort of insane because it was posted on May 31st?! Ugh, sorry I slipped up on this!
Favorite new makeup item
: Definitely still enjoying the
L'Oreal Studio Secrets Magic Perfecting Base; it makes covering my dark circles just a little bit easier because I can blend down from my circles into my cheeks without the concealer getting all patchy and dimply!! If you want to read my mini review on this primer, check it out here.
Favorite TV show to watch while blogging: I'm still trucking along with Doctor Who, but I've also discovered Torchwood. Yay! More Captain Jack!!
Favorite book Mah boyfriend has been enjoying reading Red Dragon a lot (we watch Hannibal, and he was interested in the book because of it), so I've been wanting to start reading it, tooooo! It sounds creepy and wonderful.
Favorite May blogging moment I've been really touched/floored/flattered/danced around the room for many, many minutes about the opportunities I've had to work with so many lovely indie brands lately!!! I LOVE INDIE POLISHES and the fact that some of them think my pictures are nice enough is still pretty *_____* each time someone asks me if I'd like to review something.



And there you go! What were your favorites this month?! Feel free to comment with your list!
favorite new indie polish:
favorite new (seasonal) collection:
favorite manicure you did this month:
favorite new technique or tip:
favorite new makeup item:
favorite TV show right now: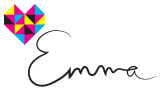 I always enjoy reading 'favorite things' or 'wrap up' posts because it's so fun to see what other people like & get to know them a little bit better. If you'd like to see all of the 'My Favorite Things' posts, click
here
!