Alright, back on track with Jamberry nail shields this time, i.e. I didn't screw it up this week! I tried out the
Retro Emerald
(or what I would call 'Watermarble Green') design on my pinkie. I didn't have any issues with application this time, so I would assume that my failed third try was probably due to the shields being too large for my nail beds (hence the wrinkles in the middle of my nail). Check it out!
*Product(s) in this post were provided for my honest review.
So I tried out the pretty watermarble pattern and paired it with brown, which I thought would be sort of refreshing and nice and Earth-y compared to what I originally wanted to do, which was black creme. Not my favorite color pairing, but maybe some other people out there that 'dig' brown nail polish will appreciate it! The plaid pattern I attempted on my ring finger was inspired by
Mr. Candiipants
; clearly I should have looked at the photo again before doing it, but ah well. Then some 'racing stripes' or 'eclipse' or whatever you guys are calling the side swipe of color these days in green on my pointer and middle nail because they looked mega weird/boring just being brown (sorry, brown polish). Green polish was CND Greenscene, yellow is Revlon Electric, and brown is China Glaze Mahogany Magic. Overall, good! You can see in the first photo that I had a challenge buffing the clear top coat part of the shield all the way away.
For my long-winded review and first try with Jamberry Sour Cherry Pie,
check out the post here
.
For my crazy adorable (and Tumblr popular) second try with Mo Mo,
check out the post here
.
For my third try, and nail fail, with the pattern Red Eclipse,
check out the post here
.
The last pattern I have is just a solid pink color; I can't remember if it will fit my nail or not but regardless of if I manage to try the pink one for next week I'm still planning to do a 'post Jamberry trial sheet experience post'. See you back here again next week!!
Comments on this post have been closed.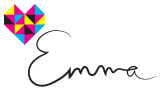 *I received a press sample for my honest review and testing purposes. If you'd like to know more about my disclosure policies, please check out my disclosure page.