Oh Jamberry nail shields, you fickle little things, you! This week I'm trying out the pattern
Red Eclipse
. If you've been keeping up with the series, my first attempt was okay with Sour Cherry Pie (
here
), and my second attempt with Mo Mo was GREAT (
here
). This third try is probably worse than my first try, so I'm feeling a little meh about the shields at this point. I guess my nail beds are just really thin and awkward, so the shield folded over and was a little bumpy in the middle of my nail at the tip. See what I mean below!
*Products in this post were provided for my honest review.
Since my sample sheet has a variety of patterns and sizes, I'm not sure how the shield sizes I got relate to a real sheet of Jamberry Nails i.e. I don't know that if I purchased a sheet with 9 different sizes if there would be enough pieces to fit my apparently teensy nail beds :-/ This Red Eclipse pattern was the largest shield size on my trial card, but I didn't have any large enough for my thumb, either. Idk you guize. This one was just a
little
too large for both of the nails I tried it on, so when I applied it starting from the bottom there was eventually a little pocket of folded wrap at the tip. I know that there are other methods, like rubbing the wraps in your hands a lot, or using a microwavable heating pad (like a rice or bean bag), etc. but mostly I'm just finding the shields in general to be sort of less than useful due to the time it takes to apply and the likelihood that I probably will eff it up. The more simple designs like this eclipse one would be easy to freehand and would take less time using a quick dry top coat *shrug*
For my long-winded review and first try with Jamberry Sour Cherry Pie,
check out the post here
.
For my crazy adorable (and Tumblr popular) second try with Mo Mo,
check out the post here
.
Comments on this post have been closed.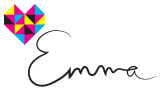 *I received a press sample for my honest review and testing purposes. If you'd like to know more about my disclosure policies, please check out my disclosure page.