Hello hello! I've got a bundle of fun things to show you today - four polishes from indie brand Dragon Lacquer AND three of their skincare items, too! Dragon Lacquer is a new-to-me indie brand and I am
impressed
. The package I received was really well packed, down to the last details - each polish in an individual plastic baggie and bubble wrapped securely (gotta love a well packed package, eh?). I've got two core collection polishes and two of the newly released Gam3r Gir1 collection which is alllll micro glitter, especially exciting for fans of Floam-ish polishes. Check it out!
*Products in this post were provided for my honest review and for swatching purposes!
This is another wonderfully pic heavy post, so be sure to click thru! There's even a DISCOUNT CODE for y'all at the end!! YAY!
1 coat over Revlon Electric
1 coat over Revlon Electric
1 coat over butterLodon Muggins
1 coat over butterLodon Muggins
L33T
is also from the Gam3r Gir1 collection and it has a shade of bright blue and a shade of aqua/teal tiny matte glitter, as well as small holographic glitters. The glitters in this polish are a little more similarly colored than in FTW so my camera was really challenged by it! I liked this most over Peachy Keen.
1 coat over black
1 coat over Sally Hansen Mint Sprint
1 coat pinkie and ring finger, 2 coats middle and pointer - over ChG Peachy Keen
1 coat over ChG Peachy Keen
Next are the two Core Collection polishes I was sent to review! One Bad Bytch, left, is an awesome glitter topper and Neon Ninja, right, is a very awesome crelly polish with neon glitters.
Neon Ninja
is a white crelly polish stuffed with neon hexes and black glitters in different shapes (bars, hexes, squares). It's easy to build this polish up to opacity; I liked it best at 2 coats in person, but my photo features 3 coats. I've also got a quick comparison of different coats below! The formula was really easy to work with. It does take an extra coat of top coat to smooth it out because the glitters are a little thicker than the base.
3 coats, no base color
3 coats
One Bad Bytch
is a sparse glitter topper with larger hex glitters in black, blue, neon pink, and purple, a smaller size of holo hex, and tiny holo glitters. No fishing required to get the glitters out, and I like the balance of colors and sizes of glitters. It's really cool and the Boyfriend was most impressed with this one!
1 coat over Revlon Electric
I included this macro of my paper test swatch because I felt like it showed off the holos a little bit better!
1 dabbled coat over Sally Hansen Mint Sorbet
Now the hand care items! I took some time to really try these and use them before giving you my thoughts. Typically I use a cuticle oil, then a light lotion, then a waxier product again on my cuticle area to really 'seal in' the moisture before bed. Hilariously, these three products work pretty perfectly for my current regimen, only BETTER. The other absolutely
fantastic
thing about these hand care items is that you can get custom scents! So neat!!
Please note if you have allergies: these products DO contain nut oils!
If you're allergic to nuts or latex gloves you might be allergic to shea butter.
This definitely looks and feels like real butter, which is sort of funny. I had the unscented version and it smells the very tinniest bit of lemons, but mostly like the ingredients used to make it (Cocoa butter, Shea butter, Sweet Almond butter, Mango butter, Aloe Vera butter, Avocado butter, etc.). This really melts into the skin and absorbs well!
Fluffy Lemon Cuticle Butter
($1.75 for a sample, $4 for .5 oz, $6.50 for 1 oz, $10 for 2 oz)
I like this product a lot! It smells pleasant but it isn't overwhelming, and the scent doesn't last for too long (which I prefer). This starts to melt as soon as you touch it, so I usually scrape a little bit out and leave it at the base of my nail, then I smear it around a little once it's started to get melty. What I
really
love about this product is that it feels like it absorbs well, and I don't feel sticky or greasy once I've rubbed it in, unlike Lemony Flutter which feels sticky/greasy forever (which is 1.5oz for $16.95, btw ((I'm like in shock here realizing I paid like 2.5 taco dinners for a tub of it, geeesh))). What I don't love about this product is that I canNOT remember to open the tin before I've already put on some lotion or oil, and I find the tin hard to open :-/
Cuticle Oil
($1.75 for a sample, $6 for a .5 oz bottle) - mine is Lavender!
I am so pleased with this cuticle oil! I chose lavender and it smells
divine
, and it's perfect for relaxing before bed. Much like the other hand care items I got to test, this oil seems to really actually soak in and moisturize (more so than the one I'm using now). Love the blend of oils; there's lots more info about the properties of the different oils used in this custom blend in
her Etsy store here
.
BUT ALSO I HAVE A COUPON CODE YOU GUIZE!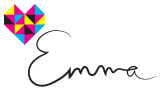 *I received a press sample for my honest review and swatching purposes. If you'd like to know more about my disclosure policies, please check out my disclosure page.