So clearly I was not inspired when I named this post because it's like....what should I name this weird blue-yellow bright thing?! Ta-dah. You are welcome. Anyhoooo, when I swatched the Spring Fling Collection from Lac Attack (
press samples for review and swatching purposes
), I swatched the namesake polish, Spring Fling, as an accent over Cult Nails You're My Dandy Lion because I thought they paired perfectly (it does, right?). Adding matte topcoat made it very rubber-y looking in person, like the Illamasqua rubber polishes (love). Check it out!
In the matte macro you can see there's some silvery shimmer, too; very cool. It's nice when a polish has an interesting and complex finish, so you don't have to 'art' as much on top of it :p
Check out the other Matte May posts from some of my favey ladies today ↯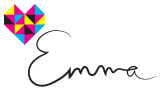 *Products in this post were provided for my honest review and for swatching purposes!