Happy Monday, my peaches! Apologies that this post is later than usual, but at least it looks cool anddddd I'm really happy with this week's Jamberry Jamboree post because I applied my nail shield really well this week! Mwhahaha! I chose my favorite pattern from my sample sheet,
Mo Mo
, and went to town doing some skittle'd patterns in similar colors.
Check it out!
*Products in this post were provided for my honest review.
I did a simple black with a mini french tip in CND Perfectly Bare on my pinkie, which hilariously just makes my nail look very short >.< My middle nail is Dollish Polish Putting on the Ritzzzz (which I desperately need many more bottles of and am
very sad
that's going to the 'acetone vault', probably my favey black & white glitter) over CND's Perfectly Bare. On my pointer I've got Orly Pure Porcelain with pointy french bits that looked a lot like a collar, so I put some dots on it.
Mo Mo
is a repeating black mustache pattern on a pale pink-nude base; the background color is between the CND Perfectly Bare and Orly Pure Porcelain, almost exactly as if they were mixed together half and half. I had no issues applying the shield this time; I warmed it up a little longer than I did the first time and
really
focused on getting the very end of the shield warm so that it could form around my cuticle better. I'm so happy that it's pretty darn easy to learn how to do these quickly! I think my most important tip is that nothing negative will happen if you just keep warming it up for a few extra seconds; in fact, it will only stick better to your nail ;D Now that I'm a little better at these I can more confidently say that I would be a little more likely to purchase a sheet, but I'm still not totally the 'target audience' and it's definitely not in my current budget.
For my first impression with Jamberry & a more detailed review, check out this post
!
Psst. These definitely feel fun
and
snazzy, very much
like a sir (source)
!
Comments on this post have been closed.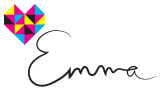 *Products in this post were provided for my honest review.