*some products in this post were sent for review*
Well, woof. I'm having a very un-fun April Fool's Day so far today BUT I do have something exciting to share with you. I got an adorable package over the weekend containing the new Rainbow Honey Robot Collection in mini bottles. The little bottles are so cute! And since this is 'Floral Week', I thought what better thing to do than to test how well these 'sparkling metallics' can stamp flowery patterns! Check it out.
yep, this is a crap iPhone photo but the COLORS look right
The Robot Collection features 5 'sparkling metallics' + 1 awesome black and white and square glitter topper. Today I've obviously only used the chromes since I wanted to see if they could stamp and the answer is also, obviously, that yes they can stamp but they're fairly thin formulas [for stamping] and also very reflective. While it sounds like that could be bad I find it to be interesting and different, providing a unique and subtle finish. The stamped flower pattern with these chromes is more subtle than usual chrome stamping and somehow a lot more reflective, so it almost disappears at extreme angles (let's not pretend that we don't all twiddle our nails around to look at how pretty they are right after doing them). I find this to be really fun for indoor, lower-lighting situations which works out well since I spend a lot of time inside buildings.
My base color was just 1 coat of Orly Decoded, a very blue-toned medium grey polish. I can imagine that with a darker or actual black base the contrast would be ramped up a bit. I did these in 'rainbow' order because I am a weirdo and arrange things like that so I had pink on my thumb and a fun ombre effect across my other fingers (green - > purple). This collection is heavy on the cooler colors (green/teal/blue/purple) which is OK with me since I love cool colors :p
If you missed getting some Rainbow Honey on Fab.com recently, don't worry - this collection is being released April 5th!
polishes used
purchased by me: Orly Decoded
provided for review: Rainbow Honey Robot Collection l-r Femme Bot (pink), Lucky Bot (light green), Bitty Love Bot (cerulean), Skyward Bot (blue), Dusty Bot (light lavender)
artificial indoor lighting / with flash
Come back soon for swatches + more words about the Rainbow Honey Robot Collection!
And check out the other Floral posts from some of my favey ladies today ↯
PS. Is it obvious that the Robot Collection from Rainbow Honey was sent for me to review?
This is my first press sample since the new somewhat excessive FTC Disclosure policies were put into place.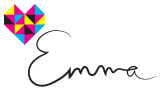 *some products in this post were sent for review*