I might have teased you a little by showing you how well this new Robot Collection from Rainbow Honey stamps before showing you swatches, but I have a ton of swatch photos to share with you today! If you haven't seen the stamping test mani yet, check it out here.
This post is extremely photo heavy because I wanted to present these polishes in a variety of different lighting situations since they're very reflective. Are you ready?
*Products in this post were provided for my honest review and for swatching purposes!
clockwise starting top left: Bitty Love Bot, Dusty Bot, Femme Bot, Yoshimi over all foils, Skyward Bot, Lucky Bot
Come on, click more!
I used OPI Natural Base Coat and (*gasp*) no top coat because these dry quickly to a 'powdery' finish - soft to the touch like a matte polish, but crazy reflective and shimmery like a traditional foil polish. Top coat did nothing for the finish; it didn't get any more sparkly or shinier. Overall these are different from most foil polishes I own because of the soft finish, but I did find some similarly colored foils. All swatch photos show 2 coats of the base color.
First up is Bitty Love Bot, a "sparkling metallic aqua". I felt like this polish was the most washed out in direct sunlight, but it's a really interesting color and I didn't immediately find anything super similar in my collection.
indirect sunlight
flash
OTT light
Dusty Bot is "sparkling metallic lavender", and I'd say everything about the name and description is spot on! This was one of my favorite shades, even tho I did find one polish
very
similar in my stash (guess that means I really like the color!)
indirect sunlight
flash
OTT light
Femme Bot is a "sparkling metallic peony" and was the most opaque of the bunch. I'm not really a pink lover, but I did really enjoy this one. What I like about this shade in particular is that you can see the distinctly different pink and silver colored foil particles at once, while most of the other shades are just sort of 'light' colored. I did find a dupe for this one in my stash which surprised me!
indirect sunlight
flash
OTT light
bonus macro shot! taken in indirect sunlight
Lucky Bot is a "sparkling metallic agave", a yellow-toned green that makes me think of pastel grass. This polish makes me feel really happy when I wear it! I found some 'similar' colors a few shades darker when digging through the Helmer drawers, but nothing similar enough to be dupes.
indirect sunlight
flash
OTT light
Skyward Bot is "sparkling metallic cerulean". Blue is my favorite color, so this one also put a smile on my face! It might have a dupe in my stash; the whole time I was wearing it, it felt very very familar somehow.
indirect sunlight
flash
OTT light
Now the mod glitter topper, Yoshimi is a "black and white combination of glitters with a bit of iridescence". What the official description fails to mention is the black and white glitters are ALL SQUAREish! Yay! To my eye it's one small size of square b&w glitters and one larger, rectangular-ish size of b&w glitters. The larger black rectangles have a cool texture to them, too! The small opal iridescent glitters shine green, orange, and blue to my eye. In all swatches I have used one dabbled coat.
(OTT light) thumb - pinkie: Femme Bot, Bitty Love Bot, Lucky Bot, Skyward Bot, Dusty Bot
NOW MATTE! Not a huge difference with the base colors, but the glitter topper does get that pretty 'frozen in a milky lake that is beautiful and not gross' vibe.
(OTT light) pinkie - thumb: Dusty Bot, Skyward Bot, Lucky Bot, Bitty Love Bot, Femme Bot
Now Yoshimi over 2 coats of Pure Ice Kiss me Here, a grey crelly polish. Over a more plain base polish you can really see the shapes of the glitter and the smaller opalescent glitters much more clearly. I don't know that I would personally combine the foils with Yoshimi that often in future manis, but it's a fun concept and looks way cooler in person (too many sparkles for the camera).
OTT light
NOW MATTE! I really liked this combo - especially those iridescent glitters, they are so tiny and pretty!
OTT light
Now MACROS!
OTT light
OTT light
Now BOTTLE SHOTS + REVIEW!
Official Description from Rainbow Honey:
The Robot Collection is a collaboration between Robot Honey and illustrator Mary Winkler, taking inspiration from
"anime, video games, super cheesy B films, and the work of Mary Winkler, illustrator, jewelry, and textile designer." It features 5 sparkling metallics and 1 mod black and white glitter topper.
My thoughts on the foil formula
: My usual method of painting didn't work with these polishes at all until I realized I needed to treat them like matte/suede polishes. Instead of doing the dot in the middle, push down, pull up method I painted one thin coat in three strokes starting on one side of my nail and working my way towards the other side. There was a little dragging at the tips I had to be careful about, tho. They were all opaque in two coats, plus not a lot of brushtrokes! Femme Bot is the most opaque of the bunch and was fine with just one coat on my current short nails. Lucky Bot might require 3 coats for longer nails. In terms of removal and clean up, paint carefully because trying to fix mistakes later leaves lot of tiny silver pieces all over your fingerbits as per typical foil removal.
My thoughts on the glitter topper, Yoshimi, formula: I always 'dabble' my glitter toppers (check this video from More Nail Polish to see what I mean), so I had no problems getting the amount of glitter I wanted in the right places on my nails. The wide mouth of the mini bottle and the normal sized brush made the painting process really easy!
Overall: I am stoked to see an indie brand put out a collection of relatively unique finishes!! I love the texture of the polish once it's dry (so sooooftttt), while I did find it a little weird to work with upon first swatch. The formula isn't challenging if you know that it's more of a matte/suede finish, I just didn't know that upon first swipe! I predict Yoshimi will be a big hit since it's ALL SQUARE GLITTER, and it's black and white glitters at that. The only thing that seemed to be missing was maybe another warmer color? I would love to have seen an orange in this finish!
3-Free? Yep yep! There is
NO Dibutyl Phthalate (DBP), NO Formaldehyde, NO Toluene!
Packaging: Rainbow Honey puts an incredible amount of thought and detail into all of their packaging; lots of cute heart stickers and tissue paper. I like that the prices aren't inflated too much to cover the extra details that feel so mega luxurious!
Price:
$10 for a full 15mL bottle & $5 for a mini 7ml bottle
I'm not sure the pricing on these new 4ml bottles yet, because that wasn't included in the literature I received - sorry!
Where to purchase:
the Rainbow Honey store
; also check out their
list of retail partners
for international polishaholics
*I received a press sample from Rainbow Honey for my honest review and swatching purposes. If you'd like to know more about my disclosure policies, please check out my disclosure page.
look at that big mouth!
look at all the glitter that the brush has!
baby polish bottle from TransDesign, OPI mini 3.75mL, Rainbow Honey Yoshimi mini (also 3.75mL), TKB mini (7mL)
A Mini Tale of Mini Bottles
When I first got into indies I was really into mini bottles because I was all OMG, LOOK AT ALL THE THINGS I CAN BUY WHEN THEY ARE ALL TINY! Often these many mini bottles were abandoned in the back of Helmer drawers because painting nails with teeeeeny tiny brushes is a chore (and also because I have too much nail polish, but that's a different topic). These new bottles Rainbow Honey are using are super awesome because the brush is a normal sized brush and the mouth of the bottle is wider than typical mini bottles, letting all that glittery goodness out with ease. I will be more tempted to purchase mini bottles again to 'sample' new polishes because painting with this brush is the same as 'normal' painting, and I do feel like the experience and swatches would be exactly the same if I had had full sized sample bottles. Using the foils to stamp with was a little worrisome because the bottles are tall and thin and I thought they might tip over, but they were fine. If you're OK with Julep bottles, then these are easy-breezy!
indirect sunlight / flash: Femme Bot, Lucky Bot, Bitty Love Bot, Skyward Bot, Dusty Bot
The Rainbow Collection will be available on
rainbowhoney.com
and participating Retail Partners around the globe on 4/5/2013 (this Friday) as a full 15ml collection and as a mini collection featuring their new 4ml bottles.
Which shades are your favorite? Will you be grabbing any of these when they're released tomorrow?!
My favorites are Lucky Bot (light green), Femme Bot (pink) and Dusty Bot (lavender), but I do like everything and will probably end up buying most/all of this collection in full sizes soon. I love love Yoshimi because I love square glitter and the little iridescent glitters are fab!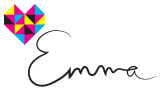 *Products in this post were provided for my honest review and for swatching purposes!