This week for
TGIF: Thank Goodness, Indy Indie Friday!
I've got a polish from one of my very favorite indie brands, Sonoma Nail Art, which features adorable yellow flower shaped glitters to match with Floral Week here on the blog. Mustard Fields is a lovely mix of green and yellow glitters and I LOVE the shaped glitter in it; if you're not a shaped glitter fan, maybe I can convince you?!
L-R: Misa Dirty, Sexy, Money, OPI Who the Shrek Are You? Rainbow Honey Lucky Bot,
Rainbow Honey Bitty Love Bot, and New York Summer Hot Green [RH shades sent for review]
My base color technique sounds complicated and looks really cool and complicated, but it was really easy to do! I did one coat of Misa Dirty, Sexy, Money, then blobbed some OPI Who the Shrek Are You?, Rainbow Honey Lucky Bot and RH Bitty Love Bot ((the Rainbow Honey shades were sent for review)) and smushed it all around with a piece of plastic (i.e. the plastic-baggie-watercolor-marble method). Then I did a quick coat of New York Summer Hot Green, a green jelly, and finally removed some patches with some quick swipes of acetone because the jelly layer made it look a little too much like slime (whoops). I dabbled just one coat of Sonoma Nail Art's Mustard Fields on all fingers; it was super easy to work with an no fishing for flowers! In the photos the flowers do look a little like they're sticking out from my nails; I think that's due to my base color technique being a smidge thick and I only used one coat of topcoat (and I didn't poke the flowers down very well with my orange stick).
Now I'm curious, do you have this polish? I love it! And I do heart Sonoma Nail Art :p
- - - * - - -
AND A HAPPY FLORAL WEEK TO YOU!
Check out the other Floral posts today from some of my favey ladies ↯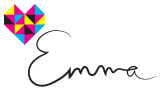 *some products in this post were sent for review*