Ever since I ordered my Alanna Renee Repatar polish I knew that I should paint an actual depiction of Reptar on my nails while wearing the polish Reptar, so here it is! It's making me feel a little meh tho, because I see too many flaws in it (not to mention mucking up a lot of the colors, geesh, self!) :-/ I bow down to all the ladies that make using acrylics look so effortless (Polish Addiction,
who did a flawless Reptar tutorial that I followed poorly
, and
Sonoma Nail Art
). I think a brush trimming is in order this weekend! Anyhoo, check out my double Reptar :D
All nails have a glue base (can't stop, won't stop) then 2 coats of Reptar, except for my Reptar accent nail which is 2x SH Greige + acrylic paints. I was really really pleasantly surprised at how quickly and easily Reptar built up to opacity! It is very bumpy, tho, so take time between coats. I love love love the polish and I am so happy to have it! More photos will be taken tomorrow before I remove these because I wasn't doing well capturing teh awesomes without getting too much glare from my diffused OTT lamp and then the flash was really harsh and you get the picture... woof.
Check out the other Digit-al Dozen designs for today!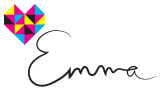 PS. Not sure if I'll be doing a seperate TGIF post this week or not; I totally screwed up my polishing/posting schedule as I had always intended for this to be the TGIF for this week but then switched my original post for today to tomorrow because I thought it looked too similar to yesterday's (a cookie for you if you followed that!)