Woo, another month of 2013 is done! I can't believe we're rounding the bend and starting to look towards summer weather already. AND Easter is already done! Here are my favorite things from the month of March.
favorite new (tried) polish: Illamasqua Viridian and butterLondon Toff are ties for my favorite newly tried polish this month. Toff only needed ONE coat for my Girly Bits Heirloom TGIF post, and I couldn't stop staring at Virdian and twirling my fingers around when wearing it.

favorite new (tried) indie: I had two very stand out fave indies this month - Candeo Colors S'mores and Girly Bits Heirloom. I really love that S'mores is a neutral colored glitter with lots of sparkle and Heirloom is just really, really pretty.

favorite new (UNtried) indie polish:
I've got some new Elevation Polish polishes, a couple Sonoma Nail Arts, some NLs (no, I haven't gotten into them yet, and no, I don't know what I'm waiting for!), and a bunch of the new Lacquistry spring polishes! YAY YAY YAY! You can also peep my indie drawers and some extra haulage in
my TGIF! Indie Quickie post
.
favorite new polish collection
: Pretty much the entire new
Lacquistry
spring collection! I'm still hoping to pick up some of the new Orly Hope & Freedom collection, and maybes some of the China Glaze Hologlams? They aren't particularly holo but I feel like they're still rather pretty, so if I can find a decent deal on them I'll probably grab some. I'm also REALLY excited about the new Cult Nails 'In the Garden' collection because it has so many of the awesome waxy finish polishes (check out more info in
this Cult Nails blog post
)!
favey March manis
Stripe Week, Digit-al Dozen gettin' Geeky, and the Tri-Polish Challenge were the highlights of March!
the Tri-Polish Challenge was super fun!
new technique/tip: Hmmm so maybe no techniques for you this month but two products I LOVE that really help me that you should totally have if you don't - 1.) butter London nail foundation base coat is THE BOMB and 2.) if you like stamping at all you have to have an XL smooshy stamper.
favorite new makeup item: I'm really loving the Urban Decay Super-Saturated High Gloss Lip Color pencils that I got in my two Oz palettes; the texture is really nice and the two different shades are perfectly different - a frosty nude and a bright red.
looks this month: Here are both of the eye looks I deemed awesome enough to show you guys this month AND I included some tutorial steps to show you how I did them! Click on the links in the captions to be taken to the tutorial posts :D
favorite TV show to watch while blogging: In March I've gotten really into That 70s Show, thank you Netflix, and ADVENTURE TIME! Pretty much I watch way too much TV and I'm totally looking forward to the new Hannibal show and the weird wolf/murder thing that's exclusive to Netflix both coming out in April.
book: I finished Girl With the Dragon Tatoo maybe a day after my last post; the end was excellent and went really quickly. I haven't really read anything since then, whoops! I have been watching a lot of silly Netflix tv instead (see above).
And there you go! What were your favorites this month?! Feel free to comment with your list!
favorite new indie polish:
favorite new (seasonal) collection:
favorite manicure you did this month:
favorite new technique or tip:
favorite new makeup item:
favorite TV show right now:
I always enjoy reading 'favorite things' or 'wrap up' posts because it's so fun to see what other people like & get to know them a little bit better. If you'd like to see all of the 'My Favorite Things' posts, click
here
!
PS. Like the new signature and/or the rest of the new graphics?!? Yay! I love them!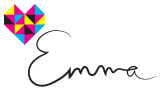 Edited to add:
I love that Debbie and Missy add blogging moments and milestones, so I'll be adding something like that in to next month's round up. I am so so so excited to be at 800+ followers here on the blog! THANK YOU. And I was also so so so excited that Pam, the creator of Girly Bits, has made the macro shot of Heirloom from my TGIF post the profile photo for the Girly Bits FB page! Definitely made me feel special