I always enjoy reading 'favorite things' or 'wrap up' posts because it's so fun to see what other people like & get to know them a little bit better. Here are my favorite things from the month of November. If you'd like to see all of the 'My Favorite Things' posts, click
here
!
favorite new (tried) polish:
OPI Black Spotted
is tdf! I want to use it on everything but also put it in a nice, padded box in a locked drawer so that nothing bad can ever happen to it...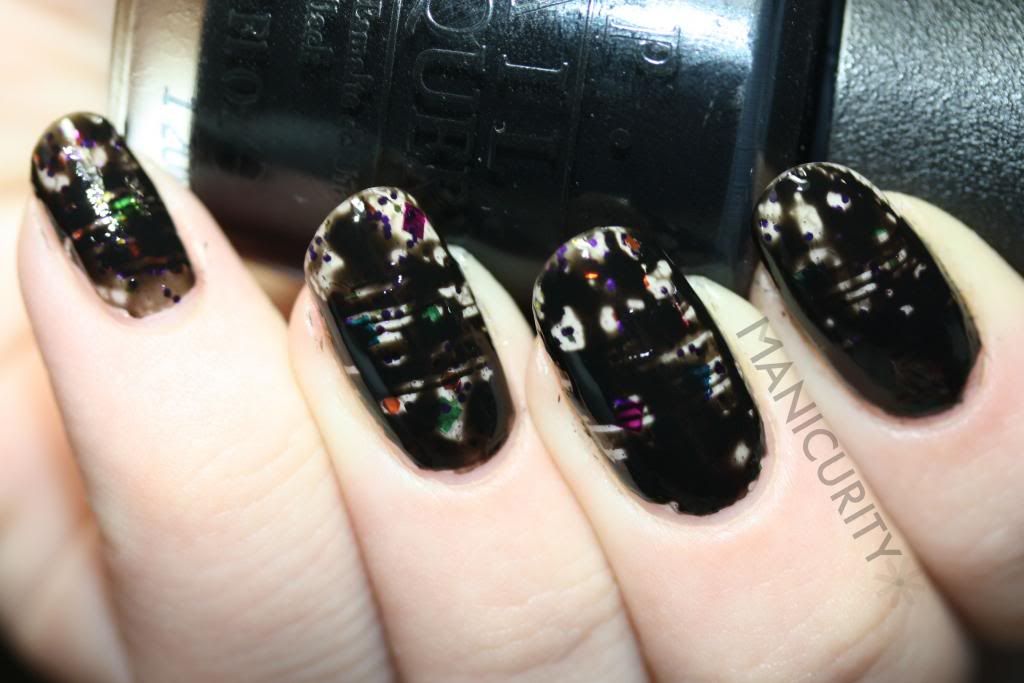 favorite new (UNtried) polish:
I have a lot of the new butter London holiday glitters to play with soon! I might pick up some glue for that peel-off base coat soon...
favorite new (UNtried) indie polish:
There are lots of HARE polishes sitting on my desk, begging to be played with...
favorite new polish collection
: OMG! Can you believe the number of AMAZING holiday/winter indies coming out (KBShimmer, Girly Bits, Candy Lacquer, Dollish Polish, CrowsToes)?! There are quite a few I want to get my hands on *rubs chin*. I'm also considering some of the fun bright colors from the China Glaze Cirque du Soleil collection.
manicure I did
: There were some really fun series in the month of November. I did
a week of music themed nails
for
Digit-al Dozen
, I've started
the ABC Challenge
were I work through some of my untried polishes in alphabetical order with two of my blogger friends, and
swatched some fun indie polishes
.
new technique/tip
: This isn't specifically related to nails or makeup, but I
did
find out that if you're struggling with how much storage space you have left on your Blogger/Picasa account, you can resize your photos and they don't count towards your limit! You can also link your Blogger and Google+ account, too, for more storage.
favorite new makeup item
: Now that I've cracked the code (don't worry, I'll share my awesome discovery with you soon) on my LORAC eyeshadow palettes, I am definitely not regretting buying them anymore!! You can check out some of my posts about it
here
, and there will be more soon (since there are 4 palettes in the collection and I've only done one so far).
favorite TV show to watch while blogging
: Emily Owens M.D. is my new favey medical-themed show! I thought the narration style would be super cheesy and stupid, but I actually really enjoy it. Also hot boys.
book
: STILL reading [and still enjoying]
The Girl with the Dragon Tattoo
by Stieg Larson! I've also added some other fluffier, easy books to my current reading list (one I'm reading right now is about a cute Irish town in the 1960s). I want to look into some Michael Crichton books, too, like Jurassic Park soon.
And there you go! What were your favorites this month?! Feel free to comment with your list! Can you believe it's DECEMBER now?!
favorite new polish:
favorite new indie polish:
favorite new (seasonal) collection:
favorite manicure you did this month:
favorite new technique or tip:
favorite new makeup item:
favorite TV show right now:
currently reading: