This is the seventh stop on the annual Hunger Games tribute tour. If you are somehow unfamiliar with The Hunger Games, please
read this post
to prepare for the 74th Hunger Games. You are a citizen of Panem, but if you need a reminder, you can read about our beautiful nation and its' districts
here
.
Welcome to District Seven!
District Seven's industry is lumber and paper products. This district is lush and covered with trees; and it sounds beautiful! The tributes for the 74th Hunger Games aren't well known, but one of the tributes from District Seven is really important in the second and third books. While this district is not a 'career' district, the tributes from this district do well with an axe and seem to be very physically fit.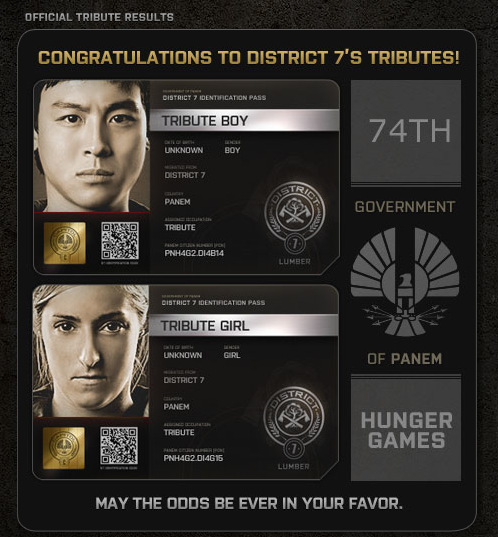 I emulated wood grain on my first two nails, and went for a more literal tree situation on my other two nails. For the wood grain nails, I did one coat of Essie Case Study and sponged on some China Glaze Mahogany Magic. I used my trusty striper brush to paint on some
wobbly
wood grain lines using a mix of Mahogany Magic + a drop of black. For my ring and pinkie nails, I did one coat of Mahogany Magic and sponged on a gradient of Hits Glitter Forte - 611, Color Club - Fly With Me, and Nubar - Wildlife. My gradient nails were so pretty and sparkly that I had a hard time photographing them!
District 8 will be presenting its' tribute presentation soon; please tune in.
The Capitol thanks you for your cooperation and invites you to tour the other districts by clicking here.
May the odds be ever in your favor.