This is the eleventh stop on the annual Hunger Games tribute tour. If you are somehow unfamiliar with The Hunger Games, please
read this post
to prepare for the 74th Hunger Games. You are a citizen of Panem, but if you need a reminder, you can read about our beautiful nation and its' districts
here
.
Welcome to District Eleven! And please don't laugh too terribly hard at this one :(
District Eleven's industry is agriculture, including orchards, grain, and cotton. District Eleven is considered the poorest district, right after District Twelve. Because District Eleven provides all of the food for the rest of the nation, this district is incredibly strict and brutal with its citizens. This District is surrounded by a 30-foot tall fence with razor wire, and they rely on public whippings to keep people in check. The tributes from this district are often underfed and tired, but have honed important skills from their agriculture occupations. Rue, the youngest tribute in the 74th games, can leap between trees while Tresh, the male tribute, is physically strong from manual labor. These tributes can also identify edible plants and plants with medicinal properties.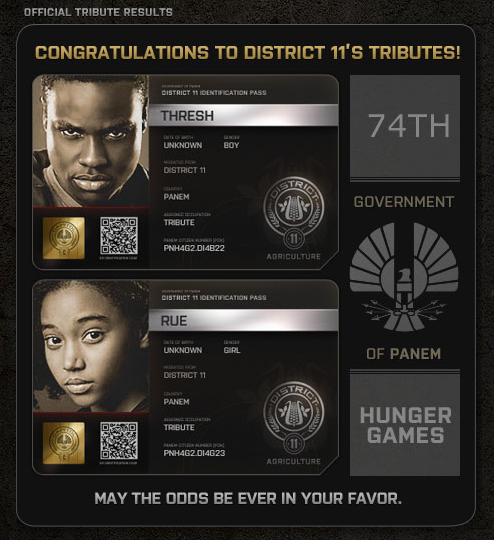 Oh my. Oh my, my, my. This is a hilariously bad interpretation of
this totally fabulous fruity fimo nail art by Copy That, Copy Cat
except for two things: 1.) I didn't go back and look at her's before doing mine, I did mine from memory and boyyyy can you tell! and 2.) She cut her own fimo pieces so they are very thin and don't look like a bad cell phone case like my nails do!!! So while this was a valiant effort, it mostly looks hella cheesy, and no, I wouldn't consider this very wearable. The orange tips are China Glaze Riveting, and I also did one coat of OPI Don't Touch my Tutu and Cult Nails Mazo as the base color.
District 12 will be presenting its' tribute presentation soon; please tune in.
The Capitol thanks you for your cooperation and invites you to tour the other districts by clicking here.
May the odds be ever in your favor.