This is not my favorite Harry Potter book. If I *had* to pick a least favorite one, it would be this one (and granted, it is very hard to choose a 'least' favorite when they are all SO good!). I'm not sure why this is my least favorite, especially because so many great moments happen in this book/movie and most of my favorite characters are introduced in this story line... But the first time I read this book I was really unimpressed with the plot twist involving Sirius Black. I guess I really love this movie, but dislike this book. Oh well! Two magical objects that truly fascinated me from this book/movie are the Maruder's Map and the time-turner, so I tried to re-create Hermione's time-turner on my nails!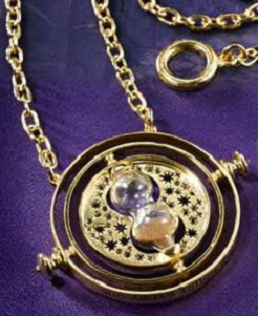 The base color is Cult Nails Vicious, a really beautiful purple creme (although I am sad to find out that my boyfriend thinks this purple is an "old lady color"). Love this color and application was a breeze, as typical with Cult polishes, but I was surprised and disappointed to see it look patchy in photographs when it doesn't look that way in person. The gold details were done with Catrice Goldfinger. I dotted some of China Glaze Electrify in as 'sand', too. I had this one planned out before all the other manis because I knew this was
exactly
what I needed to do for this book!
Don't forget to check out the other ladies doing this *~magical~* challenge with me!


Now, here's today's fun stuff :p Have you heard of the 'Scumbag Dumbledore' meme?
6. If you went to Hogwarts would you rather have an owl, a cat, or a rat?
An owl! I am allergic to cats, and an owl would be so useful
7. What do you think of the movie Half-Blood Prince?
This series is really lighting a fire inside of me to re-read and re-watch ALL the Harry Potters! I like the sixth book/movie, Half-Blood Prince, because you get more backstory on Tom Riddle's life and transition into becoming "the most dangerous dark wizard of all time"
8. What do you think of the Deathly Hallows being split in two?
It seemed like a good move for people that haven't read the books but are interested in the movie. My boyfriend seemed impressed with it being split into two because the first one had such a great cliffhanger ending. But honestly..the camping for hours? Eh
9. Have you read the Tales of Beedle the Bard?
I think so? i have a feeling my Mom would be awesome enough to have gotten this for me at some point.
I know for sure I have read 'Fantastic Beasts and Where to Find Them' and 'Quidditch Through the Ages' a thousand times
10. When did you first become a Potter fan?