Attn: This post was delayed because of falling rocks in the quarry and
ponies on the loose.
Sincerest apologies.
This is the second stop on the annual Hunger Games tribute tour. If you are somehow unfamiliar with The Hunger Games, please
read this post
to prepare for the 74th Hunger Games. You are a citizen of Panem, but if you need a reminder, you can read about our beautiful nation and its' districts
here
.
Welcome to District Two. Please wear your hard hat at all times while inside the quarry.
District 2 is best known for three things: providing cut stone for the rest of the nation from their quarries, keeping the nation full of newly trained and armed Peacekeepers, and for being the most brutal of all the districts. Geographically nearby to the Capitol, District 2 is incredibly loyal and benefits by being one of the wealthier districts. The tributes from this district are also 'Careers' (children that illegally train all their lives to compete) and often volunteer - known for their strength and viscousness. You might be familiar with the tributes from this district for the 74th Hunger Games, Cato and Clove.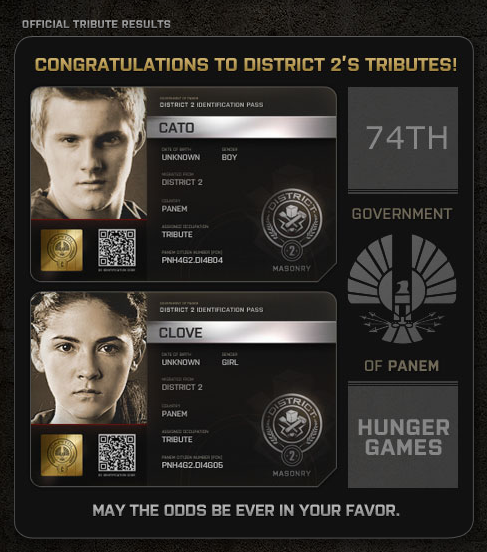 This matte mani is supposed to look like marble, or hopefully stone in general at the very least?!
I
used the China Glaze Hunger Games polish for this district - Stone Cold. After my favorite mani slid off the night after doing it, I wanted to try recreating it so this seemed like a perfect opportunity! The white polish is Mayo by ManGlaze. I used a coffee stirrer (the baby straw type) to splatter and also sort of 'blow' the splatters where I wanted them to go. For manicures like this that would require too much clean-up, I always smear Vaseline all over my finger bits with a paintbrush before and I find that helps me the most.
My favorite part of this nail art is how the white polish is a smidge sheer, so it looks like a very light grey where the splattery parts are thinner - soo cool! Later I'll try making this glossy to see what it looks like.
PS. All of these pictures but the first one were taken with flash, in case you were curious
District 3 will be presenting its' tribute presentation tomorrow; please tune in.
The Capitol thanks you for your cooperation and invites you to tour the other districts by clicking here.
May the odds be ever in your favor.