The nation of Panem is separated into a total of thirteen nation-states known as 'districts', twelve of which are recognized as 'operational' by the Capitol. Each district is solely responsible for producing, procuring, or refining goods in a particular industry as dictated by the Capitol. The districts rarely interact with each other, and each district has a unique culture dependent upon the goods that district produces. If you are reading this, you are a citizen of Panem viewing the annual Hunger Games tribute tour.
If you are somehow unfamiliar with The Hunger Games, please
read this post
in preparation for the games.
District One supplies the rest of the nations with luxury items (furs, gold, diamonds, perfumes, etc.); it is the wealthiest district of the 13. The residents' names often reflect the names of precious items and their attributes. The tributes from this district are usually 'Careers' - ones that train illegally for years to compete in the Hunger Games. Often tributes in 'career' districts like District One volunteer for the Hunger Games. You might be familiar with the tributes from this district for the 74th Hunger Games - Marvel and Glimmer.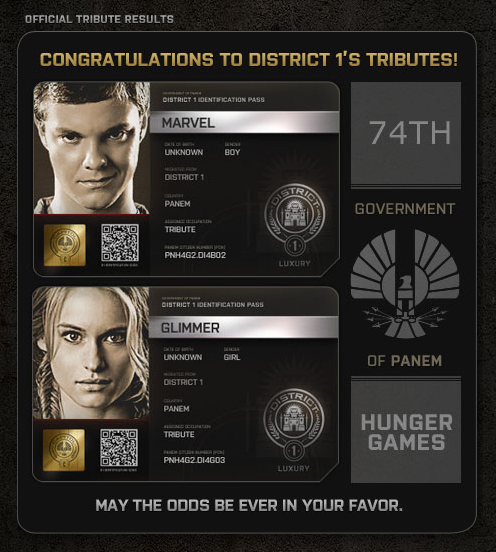 Nude It!, Luxe and Lush, silver striper, Matte About You
I used the China Glaze Hunger Games polish for this district - Luxe and Lush. I layered two thick coats of it over Essence Colour & Go Nude It! then did an outline with the silver striper. I really do think this must be the nearest to my perfect 'mannequin hands' cp;pr that I have gotten because when I wore the mani matte, it looks like a cloudy snowglobe on top of my skin (weird, eh??). The glossy version (the one right above the bottle shot) is much, much more 'luxurious' but I preferred it matte, so you get both! I admit I went a little understated for this (have you seen the
Tribute's parade attire
?) - but this just feels mega posh on my fingertips.
Do you prefer the glossy or the dreamy matte version?
District 2 will be presenting its' tribute presentation tomorrow; please tune in.
The Capitol thanks you for your cooperation and invites you to tour the other districts by clicking here.
May the odds be ever in your favor.