This is the fourth stop on the annual Hunger Games tribute tour. If you are somehow unfamiliar with The Hunger Games, please
read this post
to prepare for the 74th Hunger Games. You are a citizen of Panem, but if you need a reminder, you can read about our beautiful nation and its' districts
here
.
Welcome to District Four!
District Four's industry is fishing, which is beneficial for the citizens financially and also provides them with helpful skills. Citizens from District Four have experience using nets and tridents, making fishhooks from scratch, swimming, and identifying edible sea life. This district, along with districts one and two, are 'Career' districts that raise their children to compete in the Hunger Games making them stronger and more likely to win. The tributes from the 74th Games are not very famous, but one of the tributes from this district in the second book is a really important and interesting character (Finnick Odair).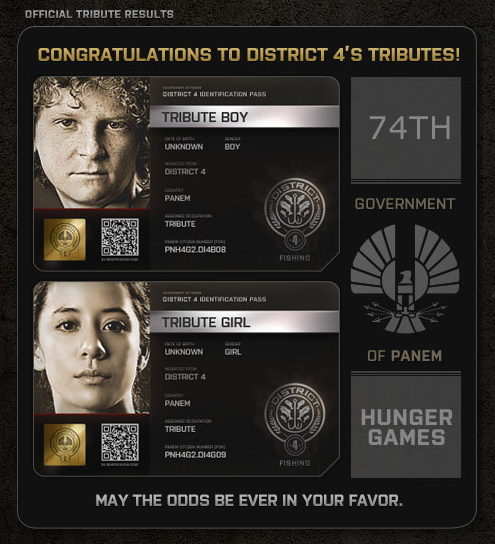 L-R: China Glaze Hook and Line, Revlon Surf, New York Summer Hot Green, Revlon Royal
This is one of those miraculous moments where I just kept adding layer after layer until something awesome happened... (which could've just ended up super thick and horrid).
I am so glad I didn't stop until I liked it! Ready to hear about all the layers?
- 2 coats of Hook and Line on my pointer and middle fingers
- 2 coats of Revlon Surf on my ring and pinkie
then
- Future on my pointer and middle + Glass Slipper + Ariel's Tail
- some cute white details on my ring and pinkie
At this point, my first two fingers weren't looking 'fish' or 'water' enough, and my Revlon Surf nails looked cute, but not very nautical. Since Ariel's Tail had a green glitter bleed that made the base a little jelly green, it inspired me to layer jellies over all my finger bits. Then to bring China Glaze's polish for this district back to the surface of this mani, I used a nail striper brush to do nets over my first two fingers and a hook on my ring finger to represent the industry of District Four. So while this started okay, got awful, stayed awful, it ended up really beautiful and squishy and aquatic. Yay!
District 5 will be presenting its' tribute presentation soon; please tune in.
The Capitol thanks you for your cooperation and invites you to tour the other districts by clicking here.
May the odds be ever in your favor.